Director Message
---
Dear Corporate Leaders,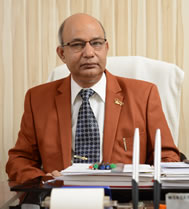 The journey of excellence that started in year 1995 with the inception of School of Management Sciences at Varanasi is still continuing and the college is striding towards greater heights year by year. This couldn't be made possible without the remarkable support that we received from corporate world. We are really indebted to all the corporate leaders.
In order to fill the gap between what is required and what is available, and to provide excellent human resource to business houses, we are making extraordinary efforts in conferring specialized training programs to our students comprising development of selling skills, leadership qualities, HR and Financial acumen, and above all developing them as emotionally intelligent personality. They are given exceptional knowledge about the factors that are important in sales at dealer network, direct sales, institutional sales, missionary sales, and in industrial sales.
Our placement activities start from the month of October every year. In this connection I would like to welcome all the organizations to bestow their pre-placement presentations and to interact with our students in order to explore the prospects of recruitment and selection, as well as to interact with our esteemed faculties for developing robust industry – academia partnership with us.
With Best Regards
Prof. P.N. Jha
MBA, PGDAM, Ph.D.(Mgmt.) , D.Litt.(Mgmt.)
Director
School of Management Sciences (Campus)
Khushipur, P.O-Bachhaon,
Varanasi-221011,
Uttar Pradesh (India)
E-Mail-director@smsvaranasi.com
Phone: 07052055555, 08953761666