Library Infrastructure
---
The SMS maintains a rich Library and Documentation Center to fulfill the needs of the students joining different academic programmers. It has an excellent collection of approximately 40,000 books on various core and specialized subjects in the fields of Management and Computer Technology.
Membership Of Delnet :
SMS Library is the member of DELNET. All the faculty members and students can access the services of DELNET. The Web address of delnet online is http://www.delnet.nic.in .The users can send their query for documents which they require using the ILL (Inter Library Loan) facility through SMS Librarian.
Some distinguishing features of SMS Library are :
Computerised transactions using LIBSYS Software.
Bar coding of all books for swift and transparent transactions.
Institutional membership of DELNET.
Excellent collection of Books under 12,000 different Titles.
Regular subscription of about 60 National and International Journals.
Regular subscription of about 74 Magazines related to Management & Computer.
Regular subscription of about 28 Newspapers including Daily & Weekly issues.
More than 200 CDs and DVDs on various topic related to Management & Computed Courses
Rich collection of advanced books in different functional areas of Management and Computer.
Rich collection of Research related books in functional areas of Management and Computer.
Continuous up gradation of the Library resources by subscribing latest publications on Management and Computer related subjects.
On-line Library facility is available to the students to contact world's best libraries.
Reading space to accommodate around 100 students at a time.
Online Subscription of various Journals including ICFAI Journal.
Student's access to library from early morning to late evening.
SMS Digital Harbour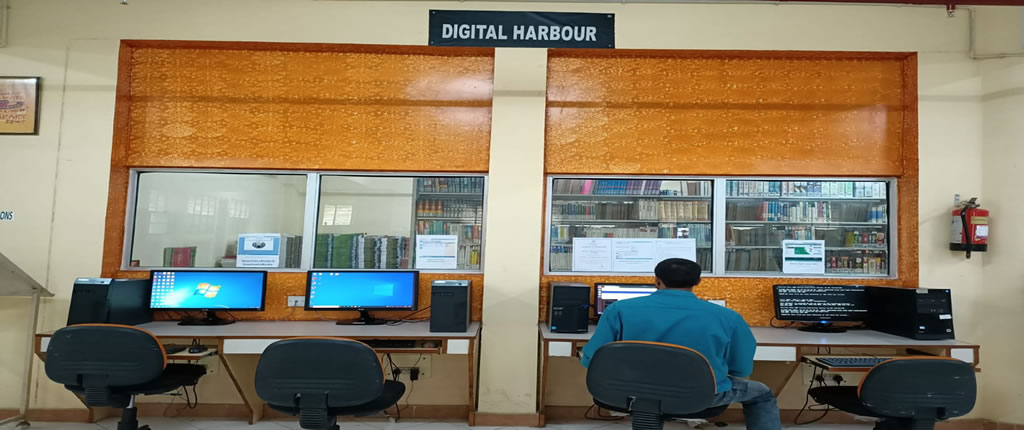 The Digital Harbour is a special section of the SMS library which is a type of information retrieval system. The Digital Harbour comprises of a collection of academic materials in the form of e-journals, e-books, lecture videos and a vast collection of digital books covering different aspects of business administration, commerce ,computer science and various other subjects like career, ethics etc.
Digital Resources
• 10,000 + E-Books
• DELNET including ILL ( Inter Library Loan) facility.
• MYLOFT (Library on Finger Tips by AKTU, Lucknow).
• NDL (National Digital Library of India ).
• E-Shodha Sindhu by INFLIBNET.
• J AWS (Talking Screen Reader for the Visually Challenged
• Learning Management System(MOODLE)
To provide the needed study material in Management and Computer Stream for benefit of student and faculty members, SMS is also mantaining a unique center of knowledge. To know more about this centre click on below mentioned link:
SMS KNOWLEDGE MANAGEMENT CENTER
A brief list of few significant subscriptions by SMS