NPTEL
---

In order to increasing employability with industry focused courses, School of Management Sciences (SMS), Varanasi has taken an initiative to connect their students & faculty members with NPTEL, and establish an NPTEL-Local chapter in October 2016 in its Varanasi Campus.
Affiliation
NPTEL is a joint venture of seven IITs (IIT Bombay, Delhi, Guwahati, Kanpur, Kharagpur, Madras and Roorkee), Indian Institute of Science Bengaluru (IISc), and funded by the Ministry of Human Resource Development, Government of India. The project also originated from many deliberations between IITs, IIMs and Carnegie Mellon University (CMU).
Excellence
NPTEL is the largest repository of Massive Open Online Courses (MOOC) that contains hundreds of courses in video formats. It provides Video lectures in Engineering, Sciences, Technology, Management, Mathematics and Humanities Streams. NPTEL is a curriculum is also adhering to the syllabi of All India Council for Technical Education, and also curricula of major affiliating Universities with slight modifications.
Implementation
The lectures are of various kinds, some with students and some with the instructor speaking directly to the camera. The courses closely mimic the traditional classroom model. The process is about learning through series of video lectures followed by quizzes and a written examination for certification. It could be summaries as:
1. Enrollment to the Course
2. Learning Through Video Lectures
3. Complete the Weekly Assignments
4. Registration for the online exam with a nominal fee
5. Examination & Certification
Certificate are provided for those candidate who have consolidated score of 40% and above, however Elite and Gold certificates are also provided for higher score.
Objectives
To cater to the contemporary needs of the new generation and for value addition through earning credit courses from various IITs and IISc.
To full the gap between industry requirement and classroom teaching in order to enhance the employability of students.
Universality
SMS Varanasi promotes all of its students, staff and faculty members to enroll and appear in NPTEL Examination. As per policy our management also has provision to reimburse the examination fee to the faculty and Staff members of SMS Varanasi. Our resources are also open to online learner of nearby locality; who chose SMS Varanasi as their Local Chapter for appearing in examination. We are happy to assists them however; a prior permission from SPOC is mandatory in such cases.
Contact Person:
Dr. Aditya Kumar Gupta
Organizer & SPOC
NPTEL Local Chapter (College ID – 533)
Email: akgupta@smsvaranasi.com
NPTEL Approval Letter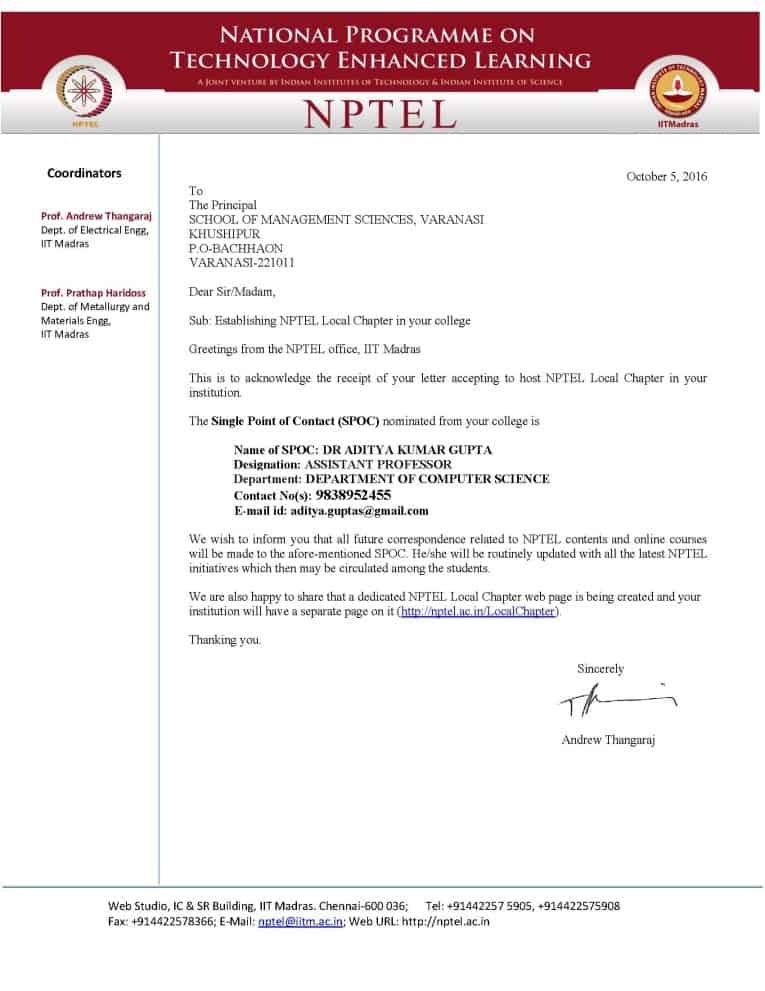 Qualified Faculty Members in NPTEL Examinations
QUALIFIED FACULTY MEMBERS IN NPTEL EXAMINATIONS

Faculty Name
Course Name
Certificate
Course Duration
Mr. S S Srivastava
(Associate Professor )
Wireless Ad Hoc and Sensor
Successfully Completed
Jan-Mar 2017
Mr. Ram Gopal Gupta
(Associate Professor )
Introduction to Modern Application Development
Elite & Gold
Jan- Mar 2017
Dr. Abhishek Srivastava (Assistant Professor )
Programming in C++
Elite
Feb-April 2017
Dr. Kamal Sheel Mishra
(Professor)
Programming in C++
Elite
Feb-April 2017
Mr. Anand Prakash Dube
(Associate Professor )
Programming in C++
Elite
Feb-April 2017
Dr. Aditya Kumar Gupta
(Associate Professor )
Introduction to R software
Elite
Jan- Sep 2017
Dr. Aditya Kumar Gupta
(Associate Professor )
Business Analytics and Data Mining Modeling Using R
Elite
Jan- April 2018
Dr. Aditya Kumar Gupta
(Associate Professor )
Big Data Computing
Elite
Feb – April 2019
Mr. Ram Gopal Gupta
(Associate Professor )
Programming in Java
Elite & Gold
Jan- April 2019
Ms. Sripriya Roy Chowdhuri
(Assistant Professor )
Problem solving Through Programming In C
Elite
Jan- April 2019
Dr. Anupam Shukla
(Associate Professor )
Foundation Course in Managerial Economics
Elite
Jan-Mar 2017
Mr. Irfan Ahmad Khan (Assistant Professor)
Foundation Course in Managerial Economics
Elite
Jan-Mar 2017
Dr. Medha Srivastava
(Assistant Professor)
Consumer Behaviour
Elite & Gold
Jan-Mar 2017
Mr. Purnendu Patra
(Assistant Professor)
Consumer Behaviour
Elite & Gold
Jan-Mar 2017
Dr. Anil Kumar Gope
(Assistant Professor)
Principles of Human Resource Management
Elite & Gold
Feb-April 2017
Dr. Anchal Pathak
(Assistant Professor)
Principles of Human Resource Management
Elite & Gold
Feb-April 2017
Mr. Vir Pratap
(Assistant Professor)
Financial Statement Analysis and Reporting
Elite & Gold
Jan- April 2018
Dr. Shishir Gujrati
(Assistant Professor)
Financial Statement Analysis and Reporting
Elite & Gold
Jan- April 2018
Ms. Anju Singh
(Assistant Professor)
Financial Statement Analysis and Reporting
Elite
Jan- April 2018
Dr. Shishir Gujrati
(Assistant Professor)
Working Capital Management
Elite & Gold
July- Oct 2018
Ms. Anju Singh
(Assistant Professor)
Working Capital Management
Elite
July- Oct 2018
Mr. Vir Pratap
(Assistant Professor)
Working Capital Management
Elite
July- Oct 2018
Mr. Irfan Ahmad Khan (Assistant Professor)
Cognition , Transformation and Lives
Elite
Aug – Sep 2018
Dr. Shishir Gujrati (Assistant Professor)
Project Management for Managers
Elite
July- Oct 2018
Dr. Shishir Gujrati (Assistant Professor)
Marketing Research and Analysis
Elite
Aug – Sep 2018
Mr. Amit Kumar Bhanja (Assistant Professor)
Soft skill For Business Negotiations And Marketing Strategies
Elite & Gold
Jan – April 2019
Mr. Chandrashekhar Singh (Assistant Professor)
Services Marketing: A Practical Approach
Elite
Jan – April 2019
Dr. Shishir Gujrati
(Assistant Professor)
Marketing Research and Analysis -II
Elite
Jan – April 2019
Dr. Shishir Gujrati
(Assistant Professor)
Financial Institutions and Markets
Elite
Jan – April 2019
Dr. Veenita Singh
(Assistant Professor)
Financial statements Analysis and Reporting
Elite
Jan – April 2019
';